An Office Renovations is the perfect opportunity to turn an uninspiring space into something that impresses employees and visitors. When undertaking a whole-office renovation, you want to be sure that the time, budget and effort you're investing will deliver a new space with that 'wow' factor, to help inspire and motivate current and prospective employees.
So today we're looking at six design ideas to help you create a stand-out office space.
a. BREAKOUT SPACES
The breakout space is a must-have for any modern office. It provides an alternative space to work away from the normal, heads-down workspace, and can provide a much-needed boost for workplace morale and productivity by adding variety into the work day.
Breakout spaces are also a great place to inject some creativity and fun into your office design: you want your breakout space to be a less formal environment, designed to inspire creativity, so it's essential that it looks and feels very different to your main workspace. It's an opportunity to bring color and bright fabrics into the office, as well as to mix up the furniture with comfortable seating to facilitate conversation and collaboration.
b. COLLABORATIVE WORKING SPACES
If you're designing an open office, you'll want to maximize the opportunities for collaborative working by creating a heads-down workspace that encourages people to get together.
To encourage collaboration, it's becoming increasingly popular for companies to have benches for employees to work at, rather than individual desks and cubicles. Combined with more people using laptops and tablets for their work, benching provides greater flexibility in the workplace too, meaning employees can easily move around to collaborate with different colleagues throughout the day as they work on different tasks.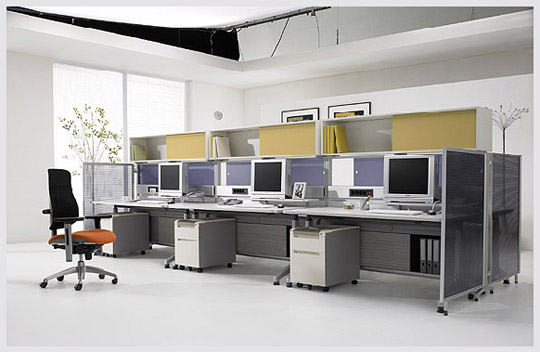 c. PRIVATE WORK SPACES
Open plan offices are the biggest workplace trend of recent years, and while they are great for improving collaboration and communication between teams, they can sometimes be detrimental to productivity as noise levels rise and it becomes difficult to work effectively.
Designing in some closed, private workspaces alongside your main, open workspace is a valuable addition to your open plan office. It makes it easier for teams to have extended, in-depth conversations about their projects without worrying about disturbing the people working around them, and offers a dedicated space for interviews, or personal conversations.
d. INVEST IN DESKS AND CHAIRS
Your employees spend upwards of 40 hours a week in the office, and the majority of those will be spent at their desks. Therefore it's essential that you invest in quality pieces of furniture to improve comfort as well as health and wellness in the office. Ergonomic chairs that can be easily adjusted to suit every employee are essential for minimizing back problems and general aches and pains.
You may also want to consider choosing sit-to-stand desks, which have the joint benefit of being easy to adjust to the appropriate height for each worker, but also enabling sit-to-stand working – a great way to improve health and wellness in the office.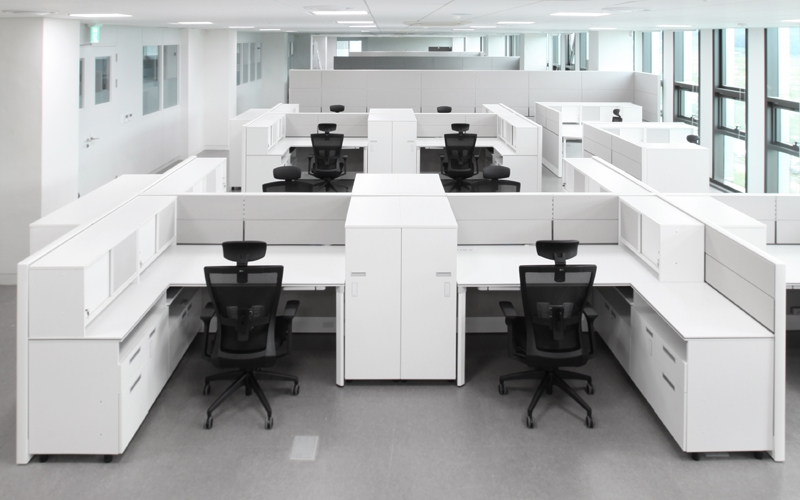 e. MAXIMIZE LIGHT
Access to natural light has been proven to offer a wealth of health and wellness benefits. Research has shown that people with windows in their workplace receive 173% more beneficial white light during work, and slept an average of 46 minutes more each night.
Open offices are fantastic for maximizing natural light throughout a building, as there are fewer cubicles, walls, or other dividers to block the light. If you've got closed meeting rooms, you may want to consider using transparent or translucent surfaces for the walls, such as glass dividers that allow some natural light to penetrate into the room.
f. BRING COLOR INTO THE SPACE
An office renovation is the perfect opportunity to re-vamp the entire space. If employees have been working in a bland, uninspiring office for several years, now is the chance to bring some color and energy into the space.
While it used to be normal for companies to decorate their offices in a neutral color palette, it's becoming increasingly popular for companies to move away from that, and choose decor in brighter colors to add a sense of personality to their offices, or as an extension of their branding.